Frezyderm Frezyfeet Heavy Legs 125ml
Reference: 5202888102875
Its innovative formula reinforces microcirculation and increases the elasticity of the venous walls, reducing feelings of heaviness, burning as well as redness while reconstructing the skin. Apply the cream by lightly massaging it onto the heels, ankles, calves applying slight pressure and working upwards.
Return policy
Free Returns
FREE SHIPPING
For orders over 39€
FREZYFEET Heavy Legs cream-gel 125 ml
Intensive hydrating care for tired, heavy feet.
The innovative combination of vasculostimulant agents with decongestive, moisturizing and emollient active ingredients ( Arnica  Montana, Chlorella  vulgaris, Cypress)
Tired, heavy feet, swelling due to standing, fatigue, poor circulation, feeling of excessive weight and tiredness during pregnancy, urine retention in lower extremities.
Enhancement of microcirculation and increased vascular wall elasticity, reduced feeling of heaviness and heat, minimization of oedemas, skin regeneration.
Reduction of redness by  24 %
Enhancement of vascular microcirculation by 26 %
(Measurement with  Laser  Doppler  Velocimeter – Sederma FRANCE)
Studies:
Dermatologically Tested
Use:
Apply massaging smoothly upwards into soles, ankles, gams. Apply light pressure to soles to improve microcirculation. Raise feet (higher than head level) briefly to quicken relief.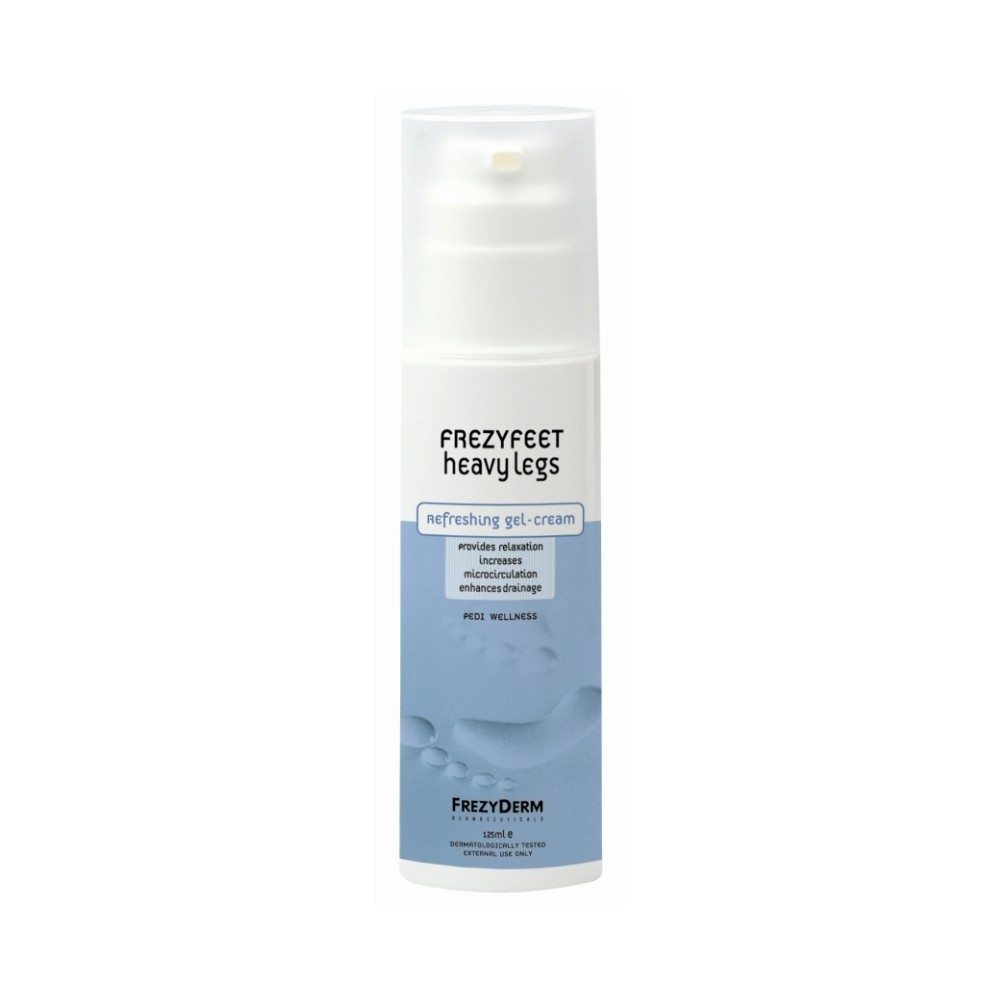 Products in the same category
3 other products in the same category:
Availability:
53 In Stock
Antistax
GEHWOL Leg Balm is a gentle, non-oily herbal balm specially for the care of the legs and feet. Allantoin, an ingredient in horse chestnut, bisabolol, a constituent of camomile, hamamelis extract, menthol and panthenol reduce irritation and have an astringent and soothing effect on skin discolouration and redness. The valuable active ingredients are rapidly absorbed by the skin. GEHWOL Leg Balm makes skin beautiful, smooth and supple when used regularly. Dry skin, skin blemishes, discolouration, foot fungus and premature skin ageing are prevented. A light massage strengthens your veins, prevents leg ailments during pregnancy and affords a pleasant feeling of being fresh.
Regular price
€16.75
Price
€10.89
-35%
Availability:
14 In Stock
"Antistax Cooling Leg Gel is a unique, easily absorbed and non -greasy product that instantly relieves and refreshes the ""heavy "" and tired feet. Usage: Massage gel on your feet, with large and steady movements, starting from your ankles and moving upwards."
Your review appreciation cannot be sent
Are you sure that you want to report this comment?
Your report has been submitted and will be considered by a moderator.
Your report cannot be sent
Your comment has been submitted and will be available once approved by a moderator.
Your review cannot be sent