You might also like
Add Related products to weekly line up
Availability:
Out of stock
The No. 1 anti-ageing skincare reinvented* to correct wrinkles and firm the skin.
Availability:
Out of stock
The firming and smoothing night cream so you wake up looking beautiful.
Products in the same category
16 other products in the same category:
Availability:
Out of stock
Vinosource Moisturizing Sorbet replenishes the skin
Availability:
Out of stock
A rich daily moisturiser that hydrates, soothes and protects the skin throughout the day while visibly reducing redness. A soothing, hydrating and protective daily moisturiser enriched with Shea butter for long-lasting nourishment. Perfect for dry to very dry, sensitive skin prone to redness and those that are prone to rosacea. Provides immediate protection from UVA and UVB rays. Skin is left perfectly hydrated, soft and comfortable all day long.
TIME-FILLER MASK, the power of a wrinkle serum concentrated in a mask with a second-skin effect, for smoothed and visibly younger-looking skin in 15 minutes.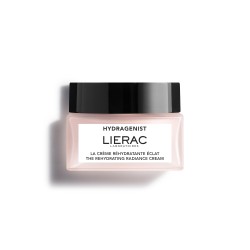 Availability:
Out of stock
An UVA and UVB protective light moisturizing day cream. This incredibly light and silky moisturizing day cream is formulated with a unique selection of skin brightening actives to help reduce the appearance of age spots, pigmentation and an uneven complexion overtime.
Availability:
Out of stock
Retinol B3 Serum is an anti-ageing serum formulated with Vitamin B3 and pure retinol to resurface and renew the look of fine lines, deep wrinkles and dark spots. Designed for sensitive skin without compromising on efficacy, the serum targets fine lines and wrinkles while improving the appearance of uneven skin texture and tone for an even complexion. Formulated with Vitamin B3 to soothe and keep skin soft, plump and supple by improving the skin's ability to retain moisture. The serum helps restore the skin's precious moisture barrier, to allow for improved hydration.
LIERAC Cica-Filler Anti-Wrinkle Repairing Serum is a powerful anti-wrinkle filling care formula, highly concentrated in replumping hyaluronic acid and smoothing Bakuchiol, a new generation active ingredient that is known to be more effective than retinol on collagen I synthesis, without side effects.
Availability:
Out of stock
Natural plant oils and oat intensively hydrate and nourish dry skin

Red wine reduces the number, depth and length of even the deepest wrinkles

Lupine and beeswax firm the skin and improve its texture and elasticity

Enriched with neroli, patchouli, clary sage and geranium essential oils, this cream tones the skin and provides a sense of well-being