You might also like
Add Related products to weekly line up
The No. 1 anti-ageing skincare reinvented* to correct wrinkles and firm the skin.
The firming and smoothing night cream so you wake up looking beautiful.
Products in the same category
16 other products in the same category:
Regular price
€46.00
Price
€32.20
-30%
Hydraskin Light Gel Cream is a lightweight moisturizer with HYDRA-STRUCTURE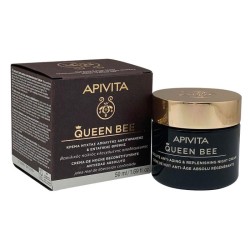 Regular price
€89.99
Price
€62.99
-30%
Availability:
Out of stock
Regular price
€127.91
Price
€89.54
-30%
Regular price
€41.39
Price
€31.04
-25%
Vinosource Moisturizing Sorbet replenishes the skin
Regular price
€25.90
Price
€18.13
-30%
This award-winning soft cream regulates and reverses the symptoms of rosacea and sensitive irritated skin. The formula's active ingredients reduce the appearance of redness, spider veins, inflammation, blackheads and swelling
Regular price
€33.51
Price
€25.13
-25%
Regular price
€27.65
Price
€19.36
-30%
Availability:
Out of stock
Regular price
€46.00
Price
€32.20
-30%
From waking up in the morning, the face looks relaxed, the skin is bright and radiant with vitality. The Avene DermAbsolu Comforting Night Balm is a night balm for mature skin with a soft finish that restores youth to the skin, giving intensive nourishment.
Regular price
€21.61
Price
€15.13
-30%
Aqualia Thermal Rich Cream is a daily moisturiser designed for sensitive and dehydrated skin. It provides intense hydration for up to 48 hours, leaving the skin soothed with a velvety finish and no greasiness.
The Cream Premier Cru is an ultra-nourishing anti-ageing cream that corrects the 8 signs of ageing without compromise. The Rich Cream is a deeply nourishing anti-ageing cream powered by patented TET8
Regular price
€12.59
Price
€8.81
-30%
Description
Essential soothing care product for sensitive, hypersensitive, allergic and irritated skin. 

Soothing action, sunburn, after anti-acne treatment, nappy rash, various forms of irritations, razor burn, after hair removal. 

Comforting and refreshing action, to complete skin cleansing, to set make-up, after outdoor activity, in summer when travelling.
Availability:
Out of stock
The Moisturizing Mask offers your skin a real bath of moisture. It instantly nourishes and soothes dry skin, even the most sensitive. On application, the skin is softer, more supple, and lastingly protected against dehydration. Skin type : all-skin, suitable for sensitive-skin - Need : Hydration & sensitive skin - Key ingredients : Organic grape water, Polyphenols, Organic centella asiatica - Texture : Mask - Use : twice a week
Regular price
€45.00
Price
€31.50
-30%
THE REPLUMPING BOMB FOR NORMAL TO COMBINATION SKIN. Moisturizing cream-gel with a feminine and delicate fragrance combining notes of rose water, jasmine, and gardenia. Concentrated to 7% Hydra O2 complex, this thirst-quenching gel-cream offers the skin an intense and immediate sensation of freshness.
Regular price
€80.51
Price
€56.36
-30%
Availability:
Out of stock
The contour refiner especially for jowls. Based on combined esthetics methods lifting + injection, this night cream associates a center of active ingredients [mahogany extract + purple tulip extract] to the anti-aging Hyalu-3 concentrate and is enriched in zerumbet ginger. A fresh and deliciously flowery fragrance combines notes of white freesia, sambac jasmine, wild berries and velvety sandalwood, maintaining a feminine touch.
Regular price
€62.55
Price
€50.04
-20%
SKIN-UNIFY INTENSIVE, a skin tone perfecting, anti-dark spot serum inspired by 3 renowned aesthetic medicine techniques to give even and radiant skin.