Vaginal gel with lactic acid and glycogen
For the immediate and long lasting adjustment of vaginal pH.
Eva lactic quickly and effectively adjust the vaginal pH to the normal level. In the form of pre-filled disposable vaginal applicator tubes immediate restores and maintains the vagina's natural balance while relieving the symptoms of itching, burning and irritation.
INDICATIONS
For the regulation of vaginal pH and its normal acidic value when this has been disrupted due to:

Bacteria or fungal vaginal infections

Long term treatment with antibiotics or contraceptives

After the menstrual period

To enhance the body's natural defense mechanism and prevent problems associated with disrupted vaginal pH value, especially during menopause.

It contains lactic acid, glycogen, chamomile and aloe extracts. Without hormones and pharmaceuticals 

pH 3,8
BT x 9 pre-filled disposable vaginal applicator tubes
Instructions
Therapeutically: To adjust the pH value when vaginal balance has been disrupted. One application per day for 7 days, preferably before bedtime.
Preventively: To maintain vaginal health one application per week, whereas after the menstrual period, one application per day for 3 days.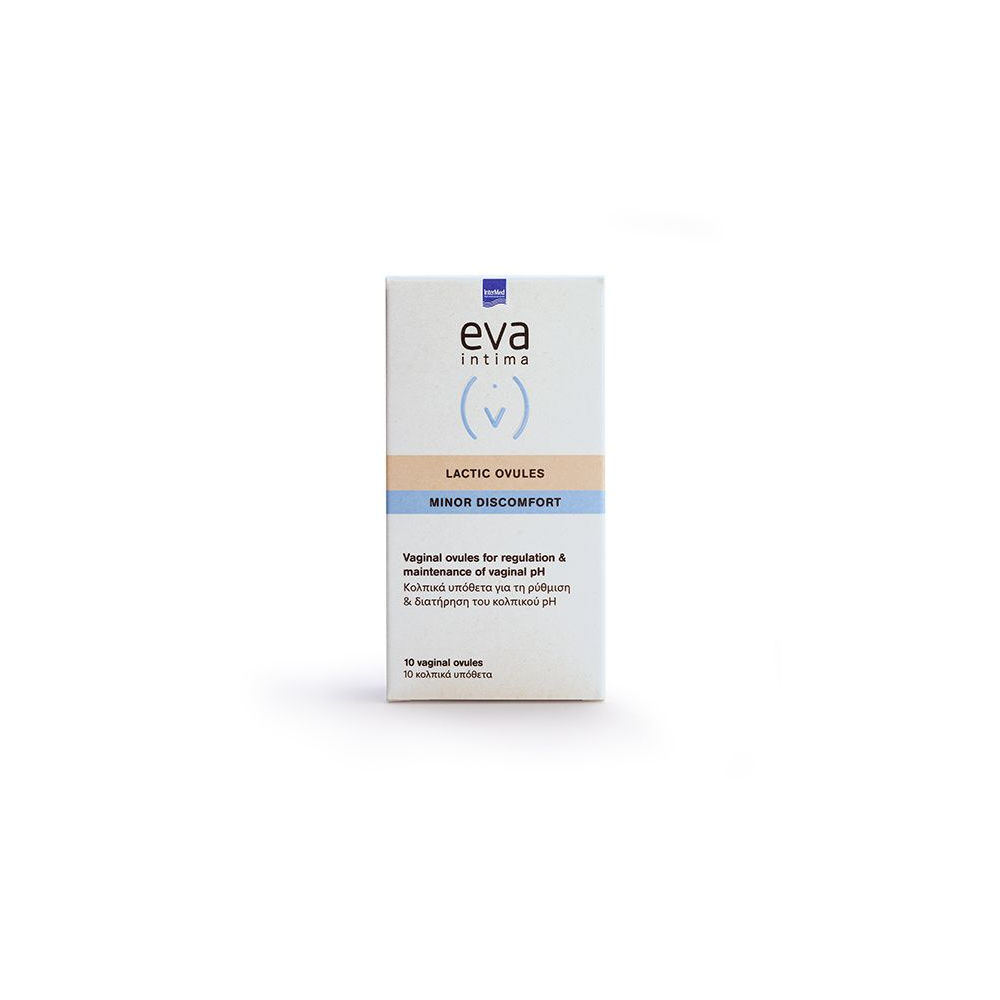 Products in the same category
3 other products in the same category:
Availability:
11 In Stock
Vaginal suppositories for the inhibition of the action of fungi. Eva Intima Mycosis Ovules is a medical device specially designed to control fungal infections of any etiology. Thanks to the combination of boric acid, tea tree oil and lactic acid, Eva Intima Mycosis inhibits fungal activity within 48 hours and over 90% while balancing the vaginal environment. Its enriched composition in chamomile extract and panthenol relieves the feeling of burning and irritation and treats the damaged vaginal mucosa.
Healing of the vaginal mucosa in cases of injury or mild atrophy. Eva Intima Restore due to its high concentration in hyaluronic acid and the unique combination of herbs with anaplastic properties is a powerful healing agent of the vaginal mucosa to enhance and accelerate the healing of atrophic or injured vaginal mucosa while regulate vaginal pH in normal acidic values, enhancement of normal vaginal flora and alleviation of symptoms of irritation and redness.
Your review appreciation cannot be sent
Are you sure that you want to report this comment?
Your report has been submitted and will be considered by a moderator.
Your report cannot be sent
Your comment has been submitted and will be available once approved by a moderator.
Your review cannot be sent